BGS pupil reaches Everyday Engineering competition final
8 November 2023
Congratulations to Bristol Grammar School Year 11 pupil Anvith who reached the final of a national competition run by the Royal Academy of Engineering. The 'Everyday Engineering' competition invited the public to release their "inner engineer" by submitting ideas and creations that aim to make daily life more sustainable. Anvith, along with a 16-year-old teammate, reached the final three alongside entries from graduate students – an incredibly impressive achievement.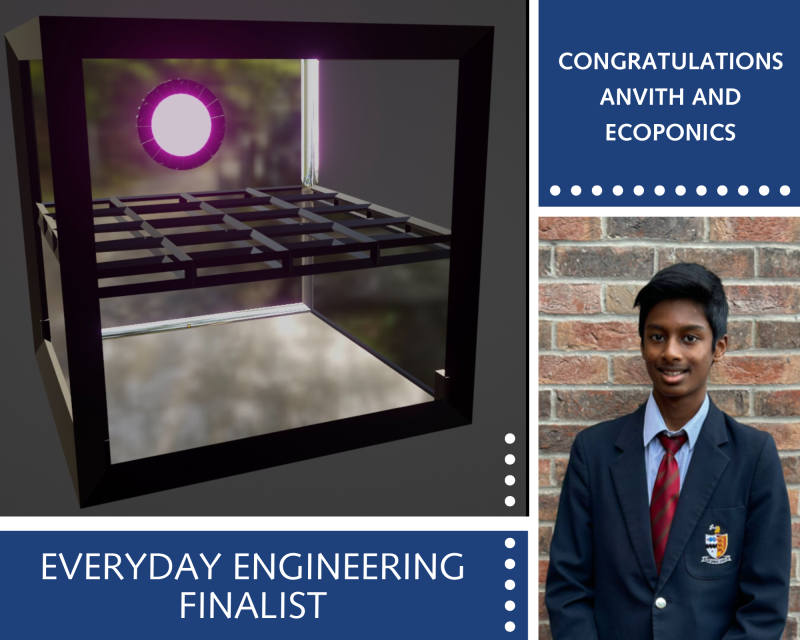 We spoke to Anvith about the competition and the inspiration behind his 'Ecoponics' idea:
How did you find out about the competition and why did you want to enter?
I was looking for a competition that would challenge my problem-solving skills and help the world become a more sustainable place.
Can you explain your idea in simple terms and what its benefits are?
My idea, Ecoponics, is a stackable vertical farming system that allows plants to be grown without the need for fertilisers or soil. It is beneficial because it enables more plants to be grown in less space, and, in addition to this, it makes growing plants easier and accessible to everyone.
Why did you choose to focus on this idea for your entry?
Given the brief of an invention that would be sustainable and help people during their everyday lives. Making gardening easier seemed to fit that brief perfectly. After a while of thinking, we thought of a few ideas, however Ecoponics was the best one which was applicable to the brief and genuinely helpful.
How did you feel when you learnt you were in the final three?
I was ecstatic when this news was announced. It was so unexpected, as me and my teammate were much younger and less experienced than the competition, so I felt extremely excited.
Do you have plans to try and make your idea a reality and develop it further?
I am currently doing research on how easy it would be to build this product and, if I can do this, I would definitely like to turn Ecoponics into a reality.
Are you interested in a career in engineering in the future?
I am currently looking at a career in software engineering to do with AI(artificial intelligence), cyber security and machine learning. This appeals to me as I've had a passion for computing from a young age. Developing code for products such as Ecoponics is extremely interesting to me because it involves making different products communicate using computing methodology. I hope to pursue this after my time at BGS.