Mandy Meredith
15 December 2021
The BGS and Old Bristolian community was deeply saddened by the death of long standing staff member Mandy Meredith earlier this term. Mandy had worked in catering at BGS for over twenty years and was a much loved member of our community. A fixture in the Sixth Form centre's JCR cafe and often working at Failand, many of our community had met her up at the Pople pavilion, or in School during their time at BGS as a pupil or a parent.
Following Mandy's death, staff, pupils and Old Bristolians were invited to contribute their thoughts and memories to a book of condolences. It is testament to the great affection in which Mandy was held throughout the BGS community that so many did so. Stories of Mandy's warmth and good humour, and her kindness to all those she came into contact with, demonstrated clearly why Mandy was so well loved and will be so greatly missed by all of us here.
The book of condolences has been given to Mandy's husband, Mike, and it was an honour to be able to present it to him in person when he and daughter Sarah visited BGS recently. During their visit, they unveiled the bench that has been placed in our grounds in memory of Mandy. They were greatly touched by this gesture and we are pleased that we have been able to remember Mandy in this way, and to share it with those closest to her. They remain in our thoughts, as do all those who loved and miss Mandy.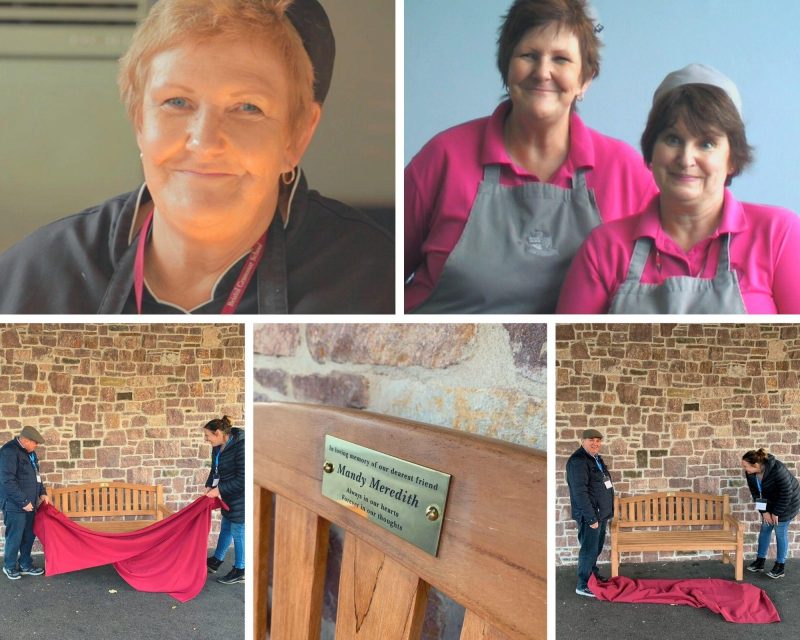 Here are just a few of the messages received from across the BGS community; there were many, many more, all remembering with true affection Mandy's friendly nature and genuine care for all of us here at BGS.

"She was amazing. When my son started in the first ever Infant class parents could have breakfast with the children. I would turn up stressed trying to find a parking space and half asleep. She and Kim were always smiling and chatty. As my daughter and son passed through school and left, it was clear Mandy and Kim weren't just serving food, they had a love for the children at BGS and the children felt the same about them. I am so sorry to learn about Mandy but her kindness made an impact on so many." Former BGS parent
"'Kim & Mandy' will never be the same again. The 'Mandy special' offering bacon, sausage, and hash browns is a Sixth Form staple. Mandy always had a smile on her face, one of the nicest people I've ever had the pleasure of meeting. My thoughts go out to her family." Old Bristolian
"I joined BGS in the Sixth Form. Mandy couldn't have made me feel any more welcome than she did. I felt so truly comfortable around her, and at a time when I had feelings of fear surrounding the unknown that come with moving schools, I was, and still am, so thankful for how she eased my worries, just by being there. I think people with such a natural ability to do so are rare, but Mandy was certainly one of them." Old Bristolian
"Even though I only saw Mandy to spend money I didn't have, on sausage rolls I didn't need, it honestly was a highlight of my day. Mandy would always ask how I was or how my day was going and offer one of the warmest smiles of anyone at BGS, and when you've had a bad day that tiny moment would really put you in a better mood. Mandy will be greatly missed and Bristol Grammar School has lost a genuinely kind hearted human." Old Bristolian
"I remember Mandy so fondly … particularly from my time in Sixth Form when she was in the JCR – always so warm and kind to us all. I returned years later as a member of staff in the Infants and I was so pleased when I found out she still worked there and I was able to chat to her during my breakfast club duty. She was just how I remembered her all of those years ago and she instantly remembered me. I think this speaks volumes of how invested she was in the students and how kind natured she was. She was much more than a member of staff or colleague to a lot of people and it is so sad to hear this news. I feel very lucky to have known her in two different stages of my life." Old Bristolian and former staff member
"Mandy and Kim really made my Sixth Form experience a lot brighter with their character and banter. Mandy has continued to send me birthday wishes every year since leaving the school, taking the mickey and made me smile every time. Mandy you will be missed." Old Bristolian
Justin Harford, Head of Sixth Form, summed up the feelings of many in the BGS community:
"Mandy was dearly loved by so many of us, including thousands of OBs who have fond memories of her serving them in the JCR of the Sixth Form Centre. We will certainly all feel her loss for a long time to come, but we count ourselves very lucky to have shared our time at BGS with such a special individual."