Education for all Morocco
1 February 2018
The Senior School charity for this term is Education for all Morocco (www.efamorocco.org), a charity supporting access to secondary schools for students in remote parts of Morocco. We have supported the charity since its foundation in 2007 and over the 10 years the project has grown significantly.
BGS has been the biggest school supporter of this charity, both in terms of students visiting the girls, and our fundraising, which has raised over £50,000. These funds have helped pay for the conversion of the second boarding house, funded solar water heating in the fourth house and in 2016 funded the wood burning stoves in the fifth house. We have also provided funds to support the day-to-day costs.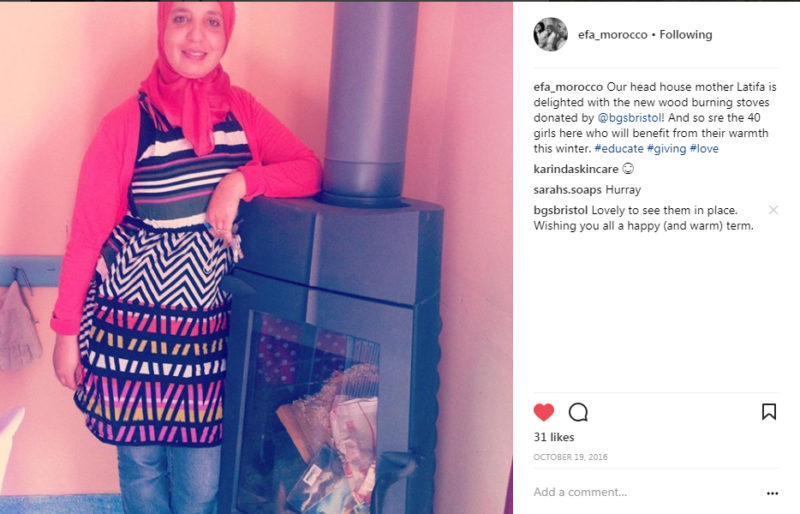 In the ten years, nine groups of Sixth-formers have visited the project, as well as a number visiting on GAP years, with a tenth group travelling there this Autumn; in the summer, six of our current Upper Sixth students will live in one of the boarding houses and run summer activities for the local children – a first for the charity.

The project currently stands at five boarding houses at full capacity with a total of 194 girls, and 52 post baccalaureate girls at university and vocational colleges, bringing it to a total of 246 girls receiving support from EFA. Of the first ten girls, Khadija is on her way to a medical degree and Fatima is studying for a Masters in Economics – the first girl from her valley to have a degree.
Our target this term is to raise £5,600 which will support one girl all the way through secondary education. To reach this ambitious target, in addition to our non-uniform day and other charity events, we are asking students, who would like to, to donate £4.44 (the cost of supporting a girl for one day of school). Students can donate at Reception on any day.
If any parents are interested in a deeper involvement in the project – including the option to volunteer to spend time in one of the houses – then please do get in touch with Dr Dimberline <adimberline@bgs.bristol.sch.uk>.