BGS remains leading Sixth Form in Bristol for Oxbridge success
7 February 2022
We warmly congratulate the 12 Bristol Grammar School students who are celebrating after receiving the offer of a place to study from either Oxford or Cambridge University next year. These two prestigious institutions are among the world's leading universities, and competition for places is fierce, with under a quarter of applications, from a highly competitive field, resulting in an offer.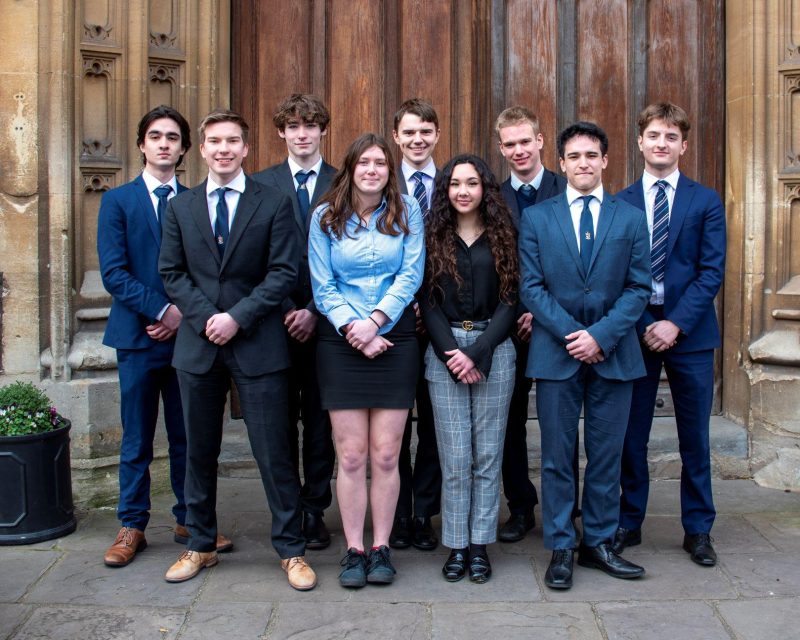 Nine of BGS's twelve successful 2022 Oxbridge applicants
With 12 of our 30 applicants receiving offers, the offer rate at BGS this year was 40%, considerably higher than the average overall Oxbridge offer rate of around 20%[1]. This follows a long tradition of success for BGS's Oxbridge candidates; data published by The Daily Telegraph[2] shows that, in the previous five years (between 2017 and 2021) one in three Bristol Grammar School students who applied to Oxford or Cambridge received an offer, placing BGS as the top independent day school in the South West and the leading Sixth Form in Bristol in terms of successful Oxbridge applications.

The school's consistent Oxbridge success is all the more impressive, given it has been achieved over a period of time when many private schools have seen the number of their pupils receiving offers from Oxford and Cambridge fall.
Bristol Grammar School Headmaster Jaideep Barot said:
"We are delighted that so many of our Oxbridge applicants are successful each year. Applying to Oxbridge is always an incredibly competitive process, and we are very proud of all those who choose to apply in pursuit of their ambitions.
"With so many high-quality applicants, it is inevitable that there will be individual disappointments alongside the successes, but we hope that those who did not receive an offer feel pride in their efforts and we know that they will each have taken something of value from the process."
All BGS Sixth Form students are supported in their planning and preparation for life after school by the school's Careers and Higher Education programme. In the Sixth Form, this includes practical support such as the offer of a practice interview – an opportunity that is usually also extended to Oxbridge candidates from other schools. These provide valuable preparation for students facing university interviews, and also an excellent opportunity for young people to gain an important life skill.
While the traditional route of university remains very popular with pupils at BGS, who go on to a wide range of courses at a wide range of universities, students are increasingly considering alternative routes. Degree apprenticeships, where young people work and earn alongside their studies, and gain valuable work experience, are increasingly popular. In the last few years, BGS has seen students enrol on degree apprenticeships in Quantity Surveying, Project Management, Engineering (Procurement and Supply Chain), and Digital Media. Recent years have also seen students gain places to study a variety of courses at international destinations in the US, Canada, Japan, the Netherlands and, most recently, at Switzerland's prestigious Ecole hôtelière de Lausanne. Sixth Form leavers also regularly progress on to Art Foundation courses, or opportunities at Dance or Drama schools, while others choose to work or travel before continuing with their education. As students in our Sixth Form begin their exploration of life beyond BGS, our focus remains very firmly on the best "fit" for each of them, as David Ruck, our Head of Careers and Higher Education explains:
"Our Careers and Higher Education programme aims to support each of our Sixth Form pupils to find the right path for them as they move beyond their school days. What is most important to us isn't where our students go, or what they study, but that the choices they have made are the best ones for them as individuals."
[1] Channel 4 Fact Check: https://www.channel4.com/news/factcheck...
[2] The Daily Telegraph, 15 December 2021: https://www.telegraph.co.uk/news/2021/12/15/revealed-success-every-single-school-getting-pupils-oxford-cambridge/