Congratulations Year 11
24 August 2017
Following a great set of A level results last week, Bristol Grammar School's Year 11 students have plenty to celebrate with their fantastic GCSE results.
This year sees our students sit the new English Literature and English Language GCSE of which 15 students have achieved at least one top Grade 9.

87% of all GCSE entries were awarded A*–B, with fourteen subjects gaining a 100% pass rate, including Mathematics, while 84% of students who studied the additional Further Mathematics course achieved A/A*s.

Nearly 65% of grades were graded A*/As, including the English Literature and English Language results equivalent to 7–9, and over 70% of these grades were awarded As or better in thirteen of the subjects offered at BGS.
Exceptional performances came from 76 students who received eight or more A*–A grades, including the scores for English, with nearly half of them gaining eight or more A*s. Seven individuals achieved 100% UMS marks in either their Art or Latin Literature papers.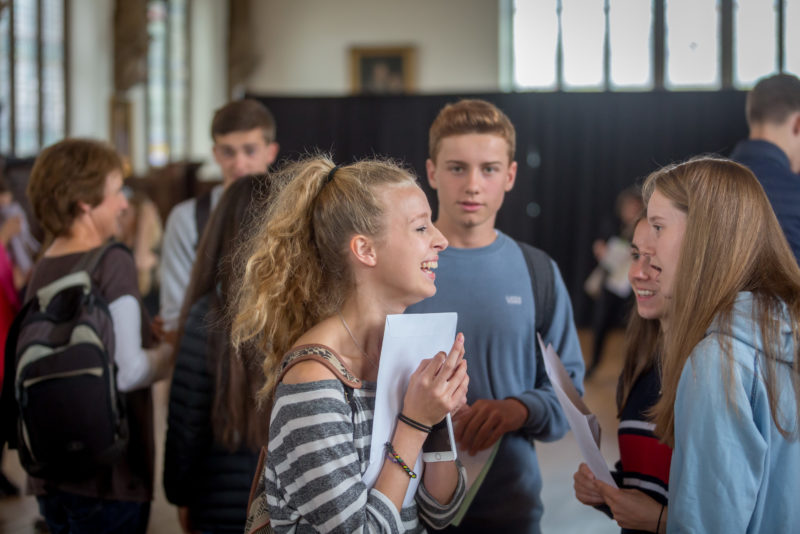 BGS students receiving their GCSE results

BGS Headmaster, Roderick MacKinnon, commented: "We are delighted that our students have once again excelled across all academic disciplines, including in the arts, humanities, sciences and maths.
This group are the first year of BGS students to enjoy the full breadth of subjects offered through the personalised curriculum at Year 9. This allows them to take the subjects they need to succeed in whatever path they decide to take further down the line, as well as giving them the chance to continue with the areas that they are passionate about."
The pupils should be very proud of their achievements, which are a strong foundation for the next stage of their education as they move on to their Sixth Form studies."
When looking ahead to the next two years in BGS Sixth Form, Tom Fox said "I am really pleased with my results and am happy that my hard work has paid off. I really like that the Sixth Form will allow us to be more independent with how we use our free time." Satyanshu Mishra added, "I am excited about being able to narrow down my subject options to study the areas that I want to focus on."
Justin Harford, Director of Sixth Form, said:
"This cohort have risen to the challenges of their first set of public examinations, which has led to an impressive set of results, while embracing the extensive co-curricular opportunities available to them. Every individual should be pleased with their achievements, and I look forward to working with them over the next two years."