GCSE Results 2018
23 August 2018
BGS students celebrate exam success
Following on from last week's A level success, Bristol Grammar School pupils are celebrating fantastic results in their GCSE examinations across the 27 subjects offered at the School. This is the first year that twelve of our subjects– including the creative arts, English and Maths – have been graded on the new 9–1 system, with grade 9 requiring higher attainment than the A*.
Almost 90% of GCSE entries were graded at A*–B (or the numerical equivalent of 9–6) with 65% at A*–A (or 9–7). 61% of all creative and performing art subjects (Drama, Art, Dance and Music) were awarded grades 9–7.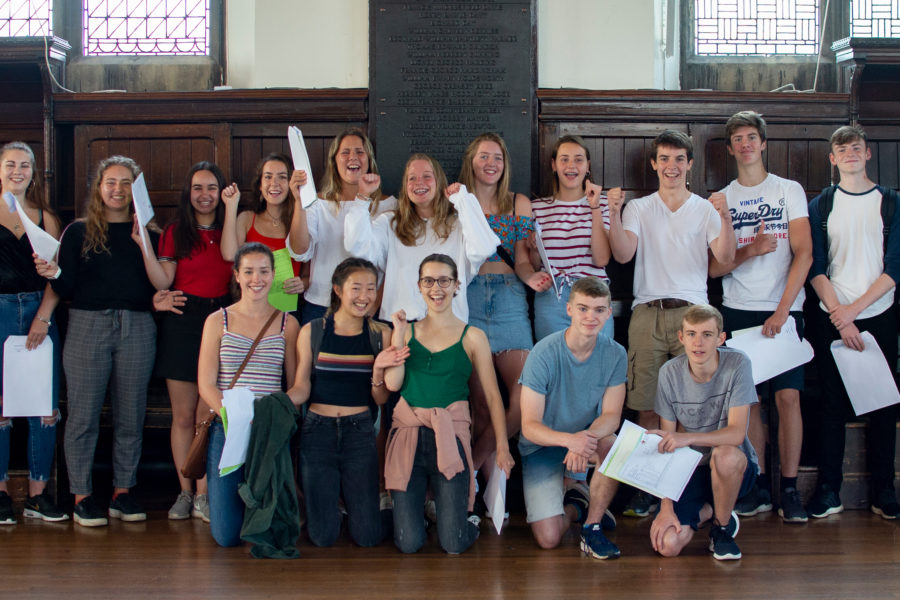 71 pupils – over half of the year-group – achieved eight or more grades at A* or A, (53 gained ten or more) and 20 achieved ten A* grades or more. 48 students (over a third of the year-group) were awarded a grade 9 in their Maths IGCSE, while 70% of those who took the Further Maths GCSE achieved an A*, including nine pupils who gained the highest possible grade, Distinction.

New BGS Headmaster, Jaideep Barot, commented:
"We are incredibly pleased with these results which are testament, primarily, to the pupils' hard work, but also to the excellent teaching at the School. This year-group is clearly a very talented one, and I am looking forward to getting to know them well as they continue to flourish in our Sixth Form. What makes this all the more impressive is that these academic successes are just one part of what these boys and girls have achieved so far at BGS – with great individual and collective success beyond the classroom, too, whether in sport, on stage, or in activities such as our very popular Duke of Edinburgh's Award programme.
"At a time when the number of students taking subjects such as modern languages and the creative arts is declining nationally, it is great to see our pupils continuing to take full advantage of the huge range of subjects on offer here."
From September, our Sixth Form students will, for the first time, have the choice of studying either for A levels or for the International Baccalaureate Diploma, allowing them to choose between these two rigorous pathways as suits them best. Both pathways allow pupils to continue taking advantage of the extensive opportunities beyond the classroom, to enable them to develop vital skills so sought after by universities and future employers.
Justin Harford, Director of Sixth Form, added:
"Our students' success marks the culmination of years of dedication to their studies. The challenge for them now is to continue to build upon these solid foundations by becoming leaders of the School community, leading by example and embracing the additional opportunities available to them. I very much look forward to welcoming them into the Sixth Form and working with them over the next two years as they grow."