And the winner is…
22 October 2018
BGS House Singing 2018
The refurbishment of the Colston Hall forced a relocation of the BGS House Singing competition this year – and where better to hold it than right here at BGS?
Each House performed to a packed MacKinnon Theatre, watched, via a live feed, by the other five Houses in the Great Hall. This solution had the added advantage of allowing those parents who hadn't been lucky enough to secure seats via the ticket lottery to watch the entire event from the comfort of their own home.

The evening began with an excellent solo performance from one of our two guest judges, AJ Dean. Old Bristolian AJ is now a professional musician and member of the band The Wandering Hearts, and he shared with the audience how House music events at BGS had helped inspire his career in music.
Each House then took to the stage in turn, preceded by a short video montage offering behind-the-scenes footage from that day's rehearsals and an insight into their choice of song. Edwards's opened the show with an impressive rendition of Bastille's Good Grief, followed by Glenn's with Pretty Shining People by George Ezra, and then Scott's, whose version of Stormzy's Blinded by your Grace provided possibly the first rap solo in House Singing history.
After a short interlude, when the Year 7 Choir impressed everyone with their medley of Jackson Five and Michael Jackson songs, Short's performed the rousing This is Me from The Greatest Showman, and showcased some impressive harmonies. Hilliard's were a vision in green as they sang Happy Ending by Mika before Niamir's ended the show with Counting Stars by One Republic, making great use of hand held lights to add atmosphere to their performance.
Despite the video evidence we'd been presented with, it was hard to believe that each performance had been put together in just one day, giving our judges, AJ Dean and, fellow OB and musical theatre actor, Mike Howie a very difficult decision to make in selecting a winner. While the winners were announced in the Great Hall, Mike Howie wowed the MacKinnon Theatre audience with You'll be Back, King George's song from Hamilton.
Each House should be congratulated on their polished and impressive performances and on the teamwork and dedication that made the evening such a success. Especial congratulations go to Short's House, who returned as well-deserved winners to 1532 and joyfully took to the stage to reprise their winning song.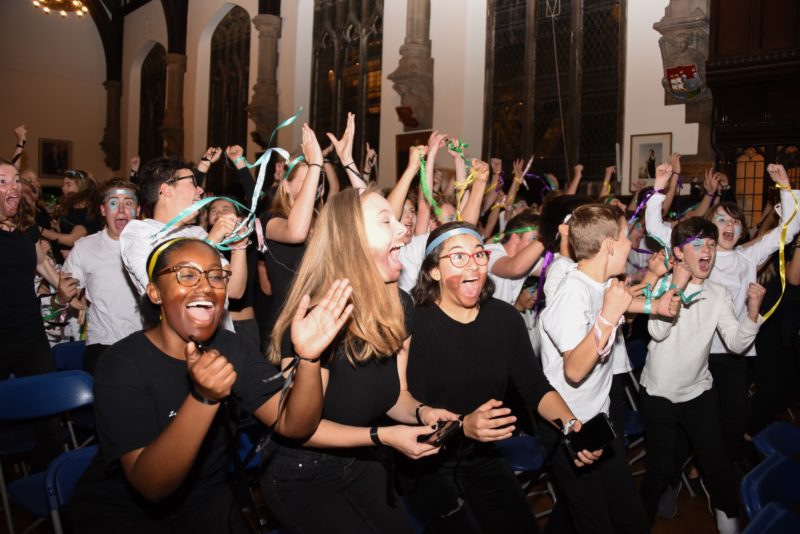 Our grateful thanks go to our judges, AJ Dean and Mike Howie, as well as to Mr Bennett, Mr Goodman and Mr Franks who worked so hard on organising the competition and all the logistics required to make it run so smoothly.

If you missed out on watching, or you'd like to see it again, take a look at the BGS Bristol YouTube channel where you can re-watch all the performances.